Flowers Miley Cyrus Lyrics | Miley Cyrus Song Lyrics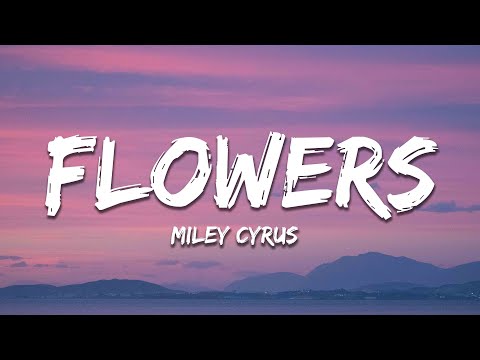 "Flowers Miley Cyrus Lyrics"

We were good, we were gold
Kinda dream that can't be sold
We were right 'til we weren't
Built a home and watched it burn
Mm, I didn't wanna leave you
I didn't wanna lie
Started to cry, but then remembered I
I can buy myself flowers
Write my name in the sand
Talk to myself for hours
Say things you don't understand
I can take myself dancing
And I can hold my own hand
Yeah, I can love me better than you can
Can love me better
I can love me better, baby
Can love me better
I can love me better, baby
Paint my nails cherry red
Match the roses that you left
No remorse, no regret
I forgive every word you said
Ooh, I didn't wanna leave you, baby
I didn't wanna fight
Started to cry, but then remembered I
I can buy myself flowers
Write my name in the sand
Talk to myself for hours, yeah
Say things you don't understand
I can take myself dancing, yeah
I can hold my own hand
Yeah, I can love me better than you can
Can love me better
I can love me better, baby
Can love me better
I can love me better, baby
Can love me better
I can love me better, baby
Can love me better
Oh, I
I didn't wanna leave you
I didn't wanna fight
Started to cry, but then remembered I
I can buy myself flowers (oh)
Write my name in the sand (mm)
Talk to myself for hours (yeah)
Say things you don't understand (you never will)
I can take myself dancing, yeah
I can hold my own hand
Yeah, I can love me better than
Yeah, I can love me better than you can
Can love me better
I can love me better, baby (oh)
Can love me better
I can love me better (than you can), baby
Can love me better
I can love me better, baby
Can love me better
I

Background of "Flowers Miley Cyrus Lyrics"
The song "Flowers" by Miley Cyrus was released on January 13, 2023, as the lead single from her eighth studio album, Endless Summer Vacation. The song is a self-empowerment anthem about finding strength and happiness within oneself, even after a breakup.

The lyrics of the song have been interpreted by many fans as being about Miley Cyrus's ex-husband, Liam Hemsworth. The song references the Woolsey fire that destroyed their Malibu home in 2018, as well as the couple's arguments and ultimately their breakup.

In an interview with Zane Lowe on Apple Music, Miley Cyrus said that the song was about "finding your own self-love and self-worth, and not needing anyone else to validate that for you." She also said that the song was about "finding your own happiness and not relying on someone else to make you happy."

The song "Flowers" has been praised by critics for its empowering message and its catchy melody. It has also been a commercial success, reaching number 10 on the Billboard Hot 100 chart.

Here are some of the lyrics from the song that have been interpreted as being about Liam Hemsworth:

* "We were good, we were gold / Kinda dream that can't be sold"
* "Built a home and watched it burn"
* "I didn't wanna leave you, baby / I didn't wanna fight"
* "I can buy myself flowers / Write my name in the sand"
* "I can love me better than you can"

Ultimately, the meaning of the song is up to the individual listener to decide. However, there is no doubt that "Flowers" is a powerful and moving song about self-love and self-empowerment.